Wahaneeta 5K Trail Run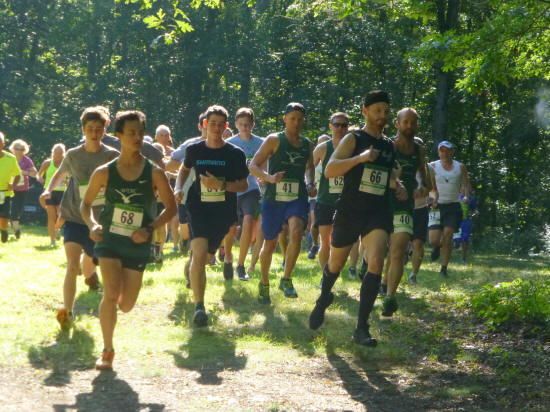 Sunday, October 3, 2021
Mar 19 update: Online registration is open. We will update this page with applicable COVID rules as we get into the fall.
Fall Race Series! #1 of 4 races

A special Fall Series tech shirt will be provided to those that complete 3 out of 4 races in the series. We will also track standings throughout the series.


Wahaneeta Preserve, Moorehouse Road, Westerly, RI
Start times:
8:00am: Registration opens
9:00am: 5K race starts
Race format: The Wahaneeta Trail 5K is an "old school" trail race, meaning this is more of a "no frills" race. We will NOT be offering some of the modern amenities such as t-shirts (do you really need another one?), deep age group awards, etc. This will keep the race logistics easier and less expensive, and accordingly, your entry fees will also be VERY LOW!
Location: 5K course starting and finishing at Wahaneeta Preserve. Purchased by the Westerly Land Trust in 2012, this is a 72-acre conservation property that was purchased by the Girl Scouts of RI in 1941 and run as "Camp Wahaneeta" starting in 1973.
Course Description: The terrain of the course is entirely dirt trails, with some technical single-track. In order to minimize bunching up at the race start, the course will first run across a short grass field before continuing on double-track for approximately one-half mile. Most of the rest of the course will be on single-track and include challenges such as stream crossings on narrow wooden bridges, hills, and rock gardens. During the course of the race, you will cross streams multiple times, with most but not all having bridge crossings. The course is very spectator friendly, as the start/finish is in the same area, and during the course of the race runners will pass through the start/finish area twice before finishing.
Requirement
:
Each participant and volunteer must wear at least 200 square inches of orange. Anyone not wearing orange will not be allowed to race.
Parking: General parking for this event will be at the Moorehouse Farm Preserve, a Westerly Land Trust property approximately 1/2 mile from the registration and start line. Please plan accordingly to allow enough time, or use as part of your warm-up.
Entry fees:
Pre-registration (up to Sep 19): $15 adults, $10 age 18 and under
Post-registration (after Sep 19): $20 adults, $15 age 18 and under
$2 discount to all pre-registered WTAC members
Awards:
Awards to overall M/F winner, plus top 1 in each age group:
⋅ 19 and under, 20-39, 40-49, 50-59, 60-69, 70+
Note awards will be low cost and more of a fun nature.
Refreshments are served post-race for all participants. Strollers and dogs prohibited. For more info, contact info@westerlytrackclub.org or (401) 447-1879 .