Li'l Rhody Runaround Trail Race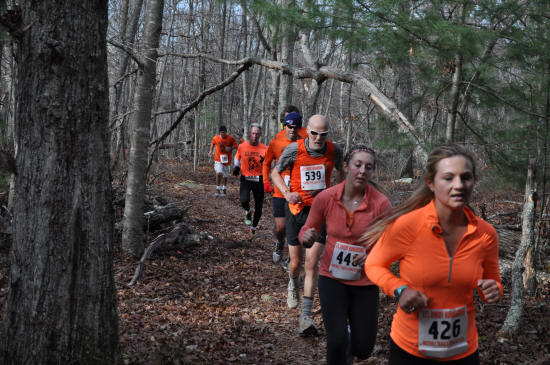 Sunday, November 17, 2019
Fall Race Series! #3 of 3 races

Series standings will be tracked; prizes to all participants at end.


New for 2019: This year we are proud to host our race as the USATF-New England Trail Championship! As such, we are temporarily switching the course to the standard 10-mile distance! $1,000 cash purse (details below). We have a lot of awards to be given out in both events (see details below)!
More trail, less asphalt! Combined 2019 course map is now posted. Link in upper right of this page.
Both the 10-mile and 4-mile course are open to all, regardless of whether USATF members on not.

Burlingame State Park, Sanctuary Road, Charlestown, RI
Start times:
8:30am: Registration opens
10:00am: All races start

Course Description: Both the 10-Mile and 4-Mile courses start on a dirt road (Sanctuary Road) before entering single-track in the Kimball Preserve. The courses will split after about 2.5 miles, with the 4-mile course going through Burlingame Campground before returning down Sanctuary Road to the finish. (The campground asphalt road on 10-mile course is eliminated.)
The 10-Mile course will resume the traditional clockwise route on the Vin Gormley "yellow dot" trail around Watchaug Pond, until about 6 miles in, where it will split and take Sammy C's trail instead of the remainder of Vin Gormley. This will make for a more technical trail finish than in the past, but all single-track and less erosion. The final mile is asphalt (sorry!), but with a downhill finish.
Requirement: Each participant and volunteer must wear at least 200 square inches of orange. Anyone not wearing orange will not be allowed to race per State of RI DEM mandate. Entry fees:
Pre-registration (up to Nov 3): $23 adults, $18 age 18 and under
Post-registration (after Nov 3): $30 adults, $25 age 18 and under
$2 discount to all pre-registered WTAC members
USATF Awards - 10-Mile Course: (you NEED to be a USATF-NE member)
$1,000 total cash purse!
Overall Male/Female: 1st place $200, 2nd $125, 3rd $100
Master Male/Female: 1st place $75
Age group USATF-NE specific awards run 3-deep
WTAC Awards - Fall Trail Series
Merchandise to all that complete each of the three events in the 2019 WTAC Fall Trail Race Series.
WTAC Awards - 10-Mile Course: (you do NOT need to be a USATF member)
TEAM awards to the 1st place Mens and 1st place Womens team (3 required to score)
INDIVIDUAL awards to top finisher overall, plus 2-deep in each age group:
13 and under, 14-19, 20-29, 30-39, 40-49, 50-59, 60-69, 70 and over

WTAC Awards - 4-Mile Course: (you do NOT need to be a USATF member)
Awards to top finisher overall, plus 1-deep in each age group:
19 and under, 20-39, 40-49, 50-59, 60-69, 70 and over

Hot soup and cider are served post-race for all participants. Strollers and dogs prohibited. For more info, contact info@westerlytrackclub.org or (401) 447-1879 .