Li'l Rhody Runaround Trail Race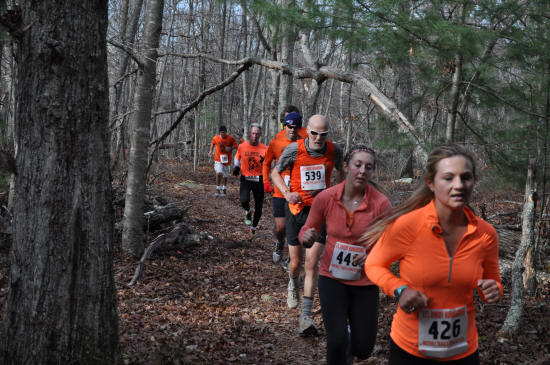 Sunday, November 18, 2018
Fall Race Series! #3 of 3 races

Discount pricing: Sign up by August 13 and run all three races for:
Adults: $48 ($6 off pre-reg; $27 off post-reg)
18 & under: $35

Series standings will be tracked; prizes at end.
Sign up using link on Wahaneeta page

New for 2018: a "half runaround" option (4 Mile), plus an earlier start!

Burlingame State Park, Sanctuary Road, Charlestown, RI
Start times:
8:30am: Registration opens
10:00am: Half and full runarounds start

Course Description: Both the 8-Mile and new 4-Mile courses start on a dirt road (Sanctuary Road) before entering Burlingame Campground. The classic full course (8 Mile) continues on the Vin Gormley (Yellow Dot) trail clockwise around Watchaug Pond. The new half course (4 Mile) will split off in the campground, and utilize parts of the Burlingame Trail and Kimball trails before returning down Sanctuary Road to the finish.
Requirement: Each participant and volunteer must wear at least 200 square inches of orange. Anyone not wearing orange will not be allowed to race per State of RI DEM mandate.
Entry fees:
Pre-registration (up to Nov 4): $23 adults, $18 age 18 and under
Post-registration (after Nov 4): $30 adults, $25 age 18 and under
$2 discount to all pre-registered WTAC members
Awards:
Awards to top 3 in each age group:
13 and under, 14-19, 20-29, 30-39, 40-49, 50-59, 60-69, 70 and over

Hot soup and cider are served post-race for all participants. Strollers and dogs prohibited. For more info, contact info@westerlytrackclub.org or (401) 447-1879 .