Li'l Rhody Runaround Trail Race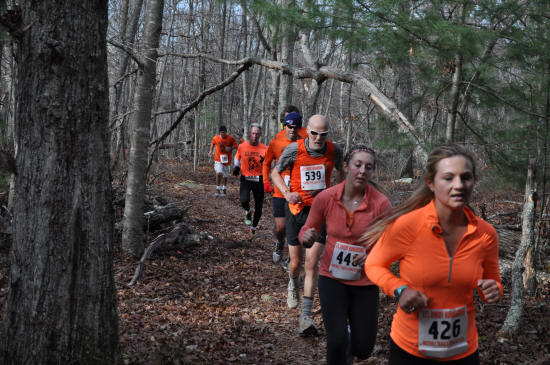 Sunday, November 20, 2022

Jun 21 update: Online registration will open in July.
Aug 1 update: Registration is open!
Fall Race Series! #4 of 4 races

A special Fall Series tech shirt will be provided to those that complete 3 out of 4 races in the series. We will also track standings throughout the series.

Burlingame State Park, 23 Sanctuary Road, Charlestown, RI
Start times:
8:30am: Check-in and bib pick-up opens
10:00am: 4M and 8M races start
Location:
- Parking: DEM picnic area parking lot (GPS: 23 Sanctuary Road, Charlestown, RI)
- Registration location: in front of cabin
Course Description: The terrain of the course is primarily dirt trails, with some dirt and asphalt roads. In order to minimize bunching up at the trail entrance, we will utilize a wave start and the race will first run just under under one mile on Sanctuary Road, a quiet dead-end dirt road with very little traffic. At that point, the 8-mile course will branch to the right and follow single-track trails counter clockwise around Watchaug Pond, finishing back at the picnic area parking lot. The 4-mile course will continue straight on Sanctuary Road, before branching off to trails in the DEM-owned Kimball Preserve, making a loop through Burlingame State Park campground, and returning to same start/finish via Sanctuary Road.
Requirement: Each participant and volunteer must wear at least 200 square inches of orange. Anyone not wearing orange will not be allowed to race per State of RI DEM mandate. Waves:
Based upon participant feedback and to minimize bottlenecks going into single-track trails, we will have waves of 50 at a time, based upon provided 5K times. More info in final race instructions.
Entry fees:
Pre-registration (up to Nov 6): $25 adults, $20 age 18 and under
Post-registration (after Nov 6): $32 adults, $27 age 18 and under
$2 discount to all pre-registered WTAC members
Shirts: included if registered by Nov 3; afterwards first-come, first-serve
WTAC Awards - 8-Mile Course:
INDIVIDUAL awards to top finisher overall, plus 1-deep in each age group:
13 and under, 14-19, 20-29, 30-39, 40-49, 50-59, 60-69, 70 and over

WTAC Awards - 4-Mile Course:
Awards to top finisher overall, plus 1-deep in each age group:
19 and under, 20-39, 40-49, 50-59, 60-69, 70 and over
Food and cider are served post-race for all participants. Strollers and dogs prohibited on the course. For more info, contact info@westerlytrackclub.org or (401) 447-1879 .