Fun Runs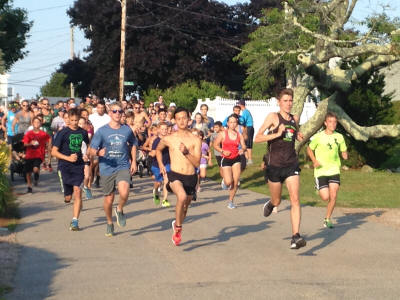 Wednesdays: June 5 - August 7
Collins Ave, Misquamicut, RI - Park in back parking lot at Pleasant View Inn, 65 Atlantic Ave - enter across the street from the Pleasant View Inn
Start times:
5:30pm: Registration opens (Fill out and bring entry form under Race Links above and to the right)
6:00pm: Children's run (1/3 mile), immediately followed by 1-Mile and 5K

This is a FREE event series put on by the Westerly Track & Athletic Club. We will record and post times on a best efforts basis for those we know and recognize, and on a self-reported honor system for all others that want their times recorded throughout the season. In addition, times for the top 3 runners, male and female, for both 5K and children will be published in the Westerly Sun and this website each week.
Awards:
10 and under: if run 5 or more children's runs --> ice cream certificate
16 and under: if run 5 or more 5Ks --> engraved trophy with time, plus paid entry to choice of a local 5K

Please bring your own water or refreshment, and kindly clean up before leaving. For more info, contact info@westerlytrackclub.org or (401) 447-1879 .